The reality about the pandemic we are facing is that although this is a highly contagious virus, it can be safely handled by a competent immune system; becoming only problematic for a small percentage of the population with certain pre-existing conditions or advanced age.
What can we do to strengthen our immune system?
Harness your fear. Many things can be contributing factors to debilitate our immune system; one of them is fear.
In Chinese medicine fear damages the kidney/adrenal unit. Our adrenals affect metabolism, blood pressure, the immune system, sex hormones and the body's response to stress.
Negative thoughts generate a fear response triggering a chemical cascade that debilitates our immune system.  Becoming aware of our negative thoughts is a good way of reducing fear and protecting our adrenals.
 
Let's change our perception. We know that perception molds reality; what can we do to change the debilitating perception of danger we are having? If we are constantly bombarded by news that make us believe that the outside world is a very dangerous place and that we are at risk of losing our lives, we will be in constant fear.
In reality sitting on our couch watching TV is not a dangerous situation. Coming back to the present and replacing negative thoughts with positive is an important tool that can help us reduce our stress level.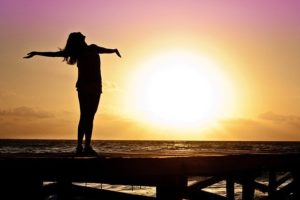 Have faith. Another important issue to consider is faith. I mean faith that we'll overcome this, that this will pass, that we will be healthy…
How can you develop this faith? First, by developing faith in us, giving our word to ourselves, and keeping it. There is no way we can have faith or trust in something or somebody if we don't start with ourselves.
Try by simply saying to yourself "I'm going to get up in the morning and today I'm going to fight a negative thought, I will do something positive and I will trust myself to do that."
 
A tool. For the technologically inclined there is a very nice free app, that I found,  called Morning! –  A 5 Minute Journal. Make gratitude a habit that can be downloaded on the phone to help you start the day with positive thoughts, gratitude and an affirmation.
 
This mandatory break can be a good time to reflect on how we are taking care of ourselves, not just physically. Remember that mind and body are one; we have the power to become more balanced and healthy.
References
Carolyn Myss. Resilience in Challenging Times.